Welcome to Ivoclar Online Learning
This website gives you immediate access to our multimedia training library where you can learn about new techniques and products.

Earn interactive CE credit by signing up for Ivoclar Vivadent live webinars. Earn self-study CE credit by viewing the on-demand modules. CE credits are provided by an approved AGD PACE provider.
Enhancing Dentistry with Milled Dentures: Insights from Dr. Vetter and Jonny Jakson
Presenter: Dr. Austin Vetter and Jonny Jakson CE Credits: 1 CEU

The evolution of dentistry has seen significant advancements in recent years, particularly with the incorporation of digital technology. One of the groundbreaking innovations is milled denture systems. In this CE webinar, Dr. Vetter and Jonny Jakson will delve into their hands-on experience, discussing its benefits, practical applications, and the transformative effect it has on modern dentistry. Attendees will gain a comprehensive understanding of how to integrate and optimize this system in their own practices, along with insights into the capabilities of designing dentures. (enter class)
Episode: The Benefits of Bulk Fill Composite
From Series: Ivoclar Dental Podcast Series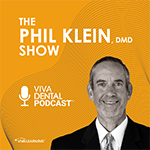 Series: Ivoclar
CE Credits: 0.25
Guest: Dr. Joshua Austin
Release Date: 11/9/23
OptraDam Plus and OptraGate

OptraDam Plus is based on an innovative, three-dimenional technique to establish a completely dry treatment field.

Due to its anatomical shape and flexible, three-dimensional design, OptraDam is completely different from conventional rubber dams. As the dam is automatically stretched in an oral direction, an automatic hold of the device in the oral cavity is ensured. OptraDam is available in the adult sizes "Regular" and "Small".

OptraGate is a latex-free lip and cheek retractor. The aid's unique flexibility and elasticity make it comfortable to wear and assist patients to keep their mouth open. (enter class)